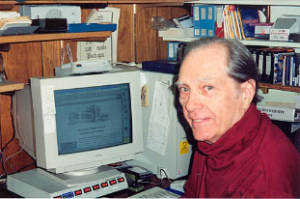 It is with deep personal regret I post this notice of the passing of my dear friend, fellow alumni and mentor, Jerry Worthing class of 1941. Jerry was a stalwart of our Alumni Association. He was honored with a Meritorious Service Award and was enshrined as a Who's Who of W.C. Mepham High School, receiving that award as well.
His lovely wife Clare (Eastwood '46) has written a wonderful tribute to Jerry's life.
"Jurgen (Jerry) Worthing Jerry was loved by family, friends, and colleagues. And he was helpful to all— lovingly, intellectually, personally, and creatively. (If something—anything—needed fixing, "call Jerry!") Born in Brooklyn August 11, 1924, he died peacefully (at his home in Wantagh that he lived in for 68 years) on October 29, 2019 at age 95 with family to give him support and love until he went into his final, wished for, long sleep.
He was an electronics engineer who, with two partners in October 1953, created a business making precision electronic instruments (Trio Laboratories). He had designed a vacuum tube voltmeter which got put on the front page of Electronic Design magazine (April 1954) just at the time of the Institute of Radio Engineers national electronics show in March, with a feature article inside. Jerry, in charge of the engineering effort went on to create new products. He holds two patents. With his interest in electronics, he joined the Institute of Radio Engineers, remained a member, and in 1961 became a "senior" member. In 1963 the IRE merged with the AIEE to become the Institute of Electrical and Electronic Engineers where he became a Senior Life Member at the age of 65. Jerry retired in 1968, at the early age of 44.
He sorely missed the challenge of inventing and designing, but a new phase of his life was about to begin. First he and his wife Clare took a long trip (10 weeks) to Asia, seeing many places including Cambodia just before it became embroiled in the war with Vietnam. After their trip his volunteer activities were occupied by politics, computers, and, later, the Mepham High School Alumni Association. He became a local Democratic Committee man in 1972, got involved with a friend's campaign for NYS Assembly, then for other races. In 1974 he was successful in helping Angelo Orazio get elected to the NYS Assembly, and then worked as the Technical Director for the NYS Legislative Commission on Energy Systems, coordinating with other members of the Assembly, stressing conservation and solar energy.
In 1986 he retired again, but continued as a consultant for energy firms. No one living today is likely to have a longer experience with computers than Jerry. Starting at age 10 with a slide rule, he learned about logarithms in high school. His first taste of electronic computers came in the spring of 1941. His brother Bob (in college at Ursinus near Philadelphia) introduced him to his physics professor, Dr. Mauchly, who invited him to his basement labs. He was working on the electronics that would be the basic counting circuits for his concept of a digital computer, subsequently inventing the ENIAC, the world's first electronic digital computer. Today's personal computers cost a thousand times less, use 5,000 times less power, weigh a billion times less, and operate 4 million times faster. Years later Jerry was invited to a press conference for Mauchly's first commercial digital computer, the Univac. Computers continued to be important in his life: in college, and at work in Albany where he had access to the Legislature's mainframe computer. In 1981 he got his own personal computer and joined the LI Computer Association. For many years he led discussion groups, sharing information. He became very proficient in Photoshop, doing magic with photos.
He also learned how to set up websites for friends. He is most proud of the one he designed for his daughter Cathie—MarriageQuest.Org.—which is a resounding success. By 1995 he was actively leading discussion groups, helping friends and neighbors with computer problems, working with graphics, writing, and learning to design websites. But it wasn't until his deepening involvement with the Mepham High School Alumni Association that he really put the computer to use, more than fifty years after his first taste. After helping Clare work on her high school 50th reunion in 1995, he joined the Board of Directors in 1996, taking their membership data from a Rolodex file to a website (www.Mepham.Org) that has 270 pages and 700 images. It includes a vast amount of information (activities, reunions, lists of Who's Who honorees—of which he was one—and their biographies, membership, class lists and "missing" lists. Also historical documents about the school and the alumni (founding of the school district, proposals for the school, original school songs, etc.) A major source of information, in the eleven years from 1995 to 2015 the database grew from 11,000 to over 25,000 names. When Clare sent letters to her classmates, Jerry assisted her with photographs and production.
When she became the editor for the organizations' publications (the annual 32-page magazine
Scuttlebutt
and 12-page newsletter
Quarterdeck
), he took over the programming for Scuttlebutt, perfecting of photos (as many as 120 photographs that each had to be adjusted in Photoshop for optimum reproduction in black and white), and coordinated the efforts of the printer and mailing house. For Quarterdeck, using the databases, he prepared the lists of contributors and deceased. And he did so much more for the organization, including marketing and fund raising. As of December 2015 he resigned from the Board of Directors.
His activities continued with his friends and family, including regular brunch meetings with computer buddies, and going to the gym. In June 2019 he was diagnosed with a leaky mitral valve. After months and months of doctors, hospitals, and testing, he optimistically went to have a procedure which would put clips to close the leaks on September 25. Almost blind with macular degeneration, when the procedure failed, he lost his will to live. With the support of family, friends, neighbors, and hospice care, he enjoyed the visits of those he loved, slept a lot, and slowly slipped away. He is survived by his wife of 70 years, Clare, daughters Joan (Bruce Dinsmore) and Cathie (Israel Helfand), grandson David (Anna), granddaughter Amanda (Jaymeth Maddox), great granddaughter Ariella, and "extended son" Perry Woods. He will be remembered with love by them and a host of family and friends."