The Stampfels who have kept our beloved 110 year old 'Itch' open in modern times as a one screen movie theater are
L.I. Herald Life People of the Year !
PEOPLE OF THE YEAR
100 years of Bellmore Movies
Henry and Anne Stampfel are the Herald's People of the Year
Posted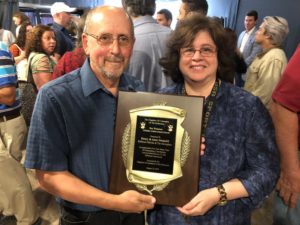 ANDREW GARCIA/HERALD LIFE
Over the past few decades, dozens of family-owned theaters on Long Island have been forced to fold in the face of competition from the massive chains. Yet, defying all odds, Henry and Anne Stampfels' Bellmore Movies — a single-screen theater — remains a fixture in the Bellmore community.
Built in 1909, Bellmore Movies is the longest continually operating and the last single-screen theater on the Island. It brings unique cultural flavor to Bellmore and greater Long Island, the Stampfels and others say, by keeping a spirit of artistry alive that cannot be found elsewhere.
"There used to be six or seven theaters within a mile of here," Henry said in the quaint deli next to the theater. He listed a few — two in Wantagh and one in Merrick went under, with more in similar situations elsewhere. "We've always kept it as a single-screen theater. It makes it unique, but it's definitely a struggle."
"There's always a seat for anyone," Anne added.
For all that the Stempfels have done to promote small business, Long Island culture and the arts, the Herald Life is proud to name them its 2018 People of the Year.
With a partner, the couple took over management of the theater in 1986. Prior to a renovation in 2000, the Stampfels became the sole owners in 1999. Little has changed at Bellmore Movies over the years, although what was once a wood floor is now carpeted, the marquee that once hung over the Pettit Avenue sidewalk fell and has since been replaced, and there are now 350 seats within. Many multiplex competitors, in contrast, offer reserved, reclining seating, expanded food and drink menus and the latest in theater technology. Yet Bellmore Movies stays afloat, thanks to the Stampfels' numerous wholesome offerings.
One recent morning, amid holiday festivities, school buses from a local district unloaded children who crowded the theater to see the Bellmore-based Plaza Theatrical Productions' "Once Upon a Snowflake." It is a common sight at the theater, as Plaza offers its live shows year-round, performed on the Bellmore Movies stage.
Plaza has found a "home" there, Anne said. Shows like "Scrooge" and "Snowflake" can be seen every year at Christmastime, and new productions are added, such as this year's "Annie."
"It's an intimate theater experience that brings a real sense of family," said Plaza's producer, Kevin Harrington. A number of schools partner with Plaza and Bellmore Movies to offer their students fun and exclusive viewings, he added. In performances during birthday parties or special events, the plays' performers run through the aisles singing.
The theater is home to adult-oriented Plaza Production shows, too — "Gypsy," "Godspell" and "Mama Mia" were some of this year's offerings. They highlight the Stampfels' appreciation of the arts, Harrington said.
"They really support various genres of art, like film and live theater, and through that show how much they care about the community," Harrington said. "I'm blessed our paths crossed. It's not just a professional relationship at this point. It's more than that." This was the 10th year of Plaza's partnership with the Stampfels. "We've seen each other's kids grow," Harrington added.
The theater has also hosted lectures on its stage, the Stampfels said. After Hurricane Sandy flooded a local church, the congregation used the venue for its Sunday services. A local synagogue celebrates Rosh Hashana at Bellmore Movies every year. A class from a dance studio in East Rockaway that was destroyed practiced on the stage, and now performs there annually.
"We also bring in art films," Henry said. The theater has become something of a "dedicated art house," the Stampfels said, by showcasing independent and foreign films that have limited showings elsewhere.
The Stampfels help honor those films in a big way: Bellmore Movies is home to the annual Long Island International Film Festival, which has premiered several award-winning films and welcomed dozens of filmmakers. Next year's expo will be the 22nd.
The festival is organized by founder and Nassau County Film Office Director Debra Markowitz. "Henry and Anne are really stand-up people," she said. "They're two of my best friends — I consider them family."
On opening night, the festival takes over the next-door Bellmore firehouse and converts it into a "filmmaker's lounge." Directors, actors, producers, judges and film-industry regulars gather there, proudly promoting their latest projects.
"There are few people who put themselves out there like Henry and Anne," Markowitz said. "They do so much for the film industry — they get films out there and dedicate all of their hours to the expo out of the goodness of their hearts."
Henry has a personal interest in filmmaking. Years ago, film editors had to physically splice film, and travel to Manhattan for editing or sound work. Bellmore Movies has a special appreciation for those filmmakers, he said.
"Since it's only one theater, it's all about that filmmaker," he said. He recalls when the festival was held in the Stampfels' other theater, in Malverne, which has more screens. There festival-goers would get lost in the confusion of multiple premieres, but Bellmore Movies offers a single-screen spotlight.
At this year's festival, the Stampfels were honored with the Chamber of Commerce of the Bellmores' first Roy Weinman Lifetime Achievement Award, named after the late Bellmore business owner. "Presented to Henry and Anne Stampfel, in appreciation for your many years of outstanding contributions and excellent service to the Bellmore community," it reads.
Because of the Stampfels' dedication to maintaining a popular and historic destination for the benefit of the Bellmore community, the local folks have a theater to call their very own.